Leanne and I met for the first time a few years back when we were both attending Florabundance Inspiration Design Days. She and her husband, David, run the well-known and esteemed floral design school, Floral Design Institute, in Portland, Oregon. I've asked Leanne to be our guest on the blog today and to share more details of FDI with our Flirty Fleurs readers.
-Alicia
Hi Leanne, thanks so much for taking time to share your story with Flirty Fleurs readers. For those not familiar with Floral Design Institute, can you share an overview?
Floral Design Institute is a labor of love.  I bought the school in 1988 and David joined me in 1994. Together we have built the company into the largest privately owned, floral design educational institution in the world.  We strive to maintain a nurturing company environment where both employees and students can achieve their full potential.  I love what I do, I love flowers and floral design and I look forward to going to work every day.
Tell us a bit about the various educational opportunities with FDI. Please share with our readers the options between in-person classes and the online classes.
At Floral Design Institute we feature both classroom and online training programs. These programs range from simple, single subject how-to classes to full certification and master classes.  We offer floral design certification and we are an approved Education Partner with the American Institute of Floral Design (AIFD). We are also a Oregon Department of Education licensed vocational school. Five of our instructors are AIFD accredited and two are AIFD certified floral design evaluators and judges.
We produce floral design how-to videos every week and have an open library of several thousand videos online which are free to the public.
Our online certification programs are unique in that they are fully teacher supported.  This means that in addition to online video lessons, photo illustrations, and textbook lessons, there are required design projects which must be completed, photographed, reviewed, and critiqued by an instructor.  Every online student must satisfactorily complete all hands-on projects, quizzes, and exams to receive their certification.  Our instructors are available by phone and email to assist students.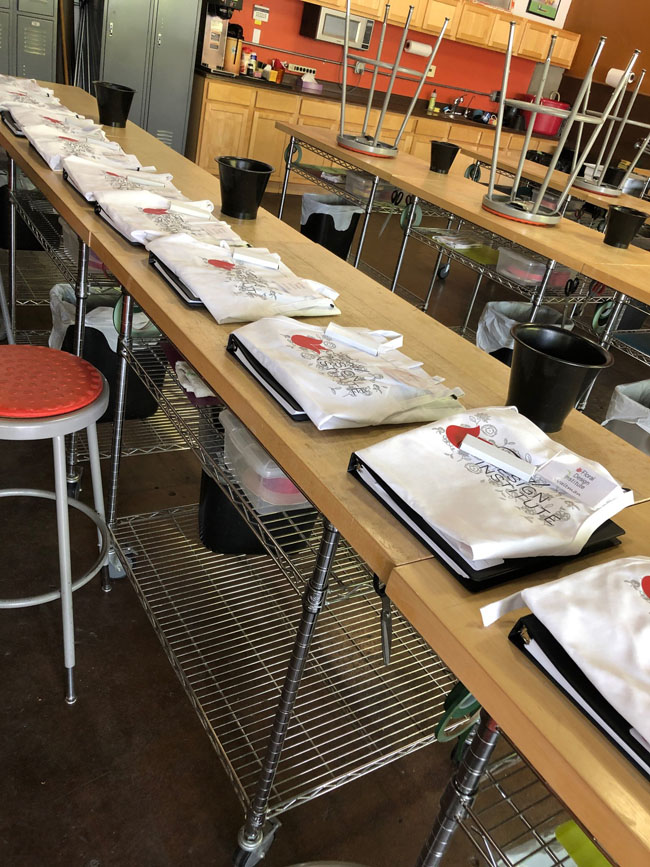 Leanne, how did you become a floral designer? At what point in your career did you decide to work towards AIFD accreditation?
I became an AIFD accredited floral designer in 2004.  I made the decision to do this after working as a floral designer and teacher for over 27 years which is much later than most accredited members.  The decision was based on David's incessant nagging and also in my belief that we all need to part of something much greater than ourselves.  I love the organization and have been very active in its activities and offices.  Interesting fact; David and I were inducted at the same time making us the first husband and wife ever to be inducted together. Unfortunately, D comes before L so he was inducted first!
How do you stay inspired and keep fresh at 30+ years in the floral industry?
How do I stay fresh after 43 years in the floral industry?  Very simply, my students and staff keep me fresh, challenged and alive.  Every time I meet a new student and see their excitement and enthusiasm. Every time I sign the certificate of a new graduate.  Every time I place a pin on a new Certified Floral Designer.  Every time a staff member comes to me with a bold new idea or project I am thrilled. Thrilled beyond belief and at the same time humbled.  Humbled, because I recognize the weight of my responsibility to be positive, up-to-date and relevant in the floral industry.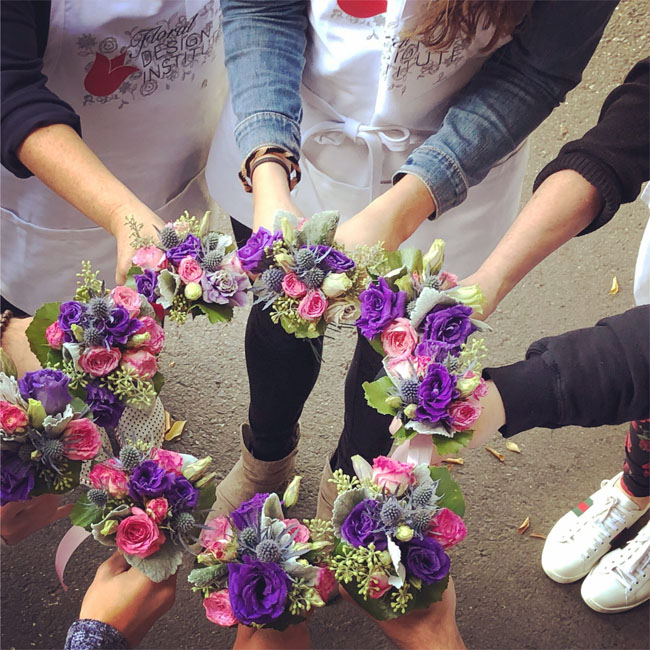 One more question, because every interview with a florist always has a very important question – What's your favorite flower? And any parting words of advice to people thinking of starting a career in floral design?
In parting, my favorite  flower is the daffodil and my favorite phrase is "Do Something You Love".
Thank you, Leanne, for taking the time to chat with me, I am sure Flirty Fleurs readers will enjoy learning more about you and the Floral Design Institute. I must say that anytime I hear someone say "Do Something You Love" I automatically think of you!!
Additional information for Floral Design Institute can be found at:

Website: https://www.floraldesigninstitute.com

Facebook: https://www.facebook.com/FloralDesignInstitute

YouTube: https://www.youtube.com/user/FlowerSchool